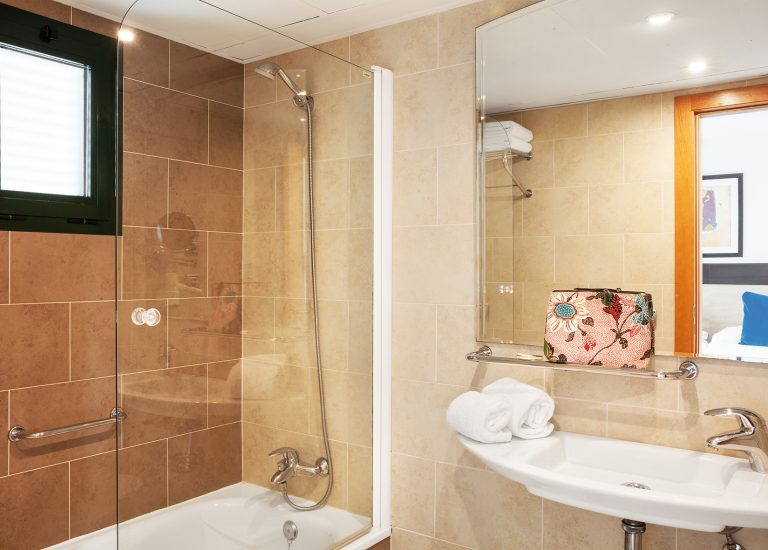 Spacious and comfortable room with two beds or a double bed. Terrace overlooking the pool
Spacious and comfortable room with two beds / or double bed. Terrace or balcony overlooking the gardens.
Room with 2 separate beds and en-suite bedroom with a King size bed and a spacious living room. Window with sea views.
Double room with bathroom, wardrobe, desk and small balcony.
Pocillos Playa Hotel Lanzarote
4-star hotel ideal for a holiday with your partner or friends. It has a wonderful location in the charming Lanzarote town of Puerto del Carmen. Located 150 meters from the beach of los Pocillos. In the surroundings there are charming beaches and the funniest shopping and leisure area on the island.
It is perfectly connected to the different places of tourist interest. A perfect peaceful place to relax on vacation with all the comforts.
Choose one of our beauty rituals and enjoy it in an intimate and exclusive space in our Health and Beauty Center.
And if you want to stay in shape, you can train in our gym
"Perfet stay: Perfect place to relax and recharge. Really enjoyed the buffet breakfast which had a huge selection. The bar is really nice friendly staff there. Reception staff are welcoming and helpful. Overall, a lovely hotel holiday. "
"Very welcoming: This hotel is a lovely place to stay. The food is particularly good, good choices, plenty of it and well presented. The chef is a great fun! The pool and surrounding areas well kept, and I also particularly enjoyed my pedicure in the spa!"
"After having booked a last minute holiday we were a bit apprehensive about some of the reviews. However we need not have worried , the hotel was lovely the food choice was varied with different themes each night . Your morning was always brightened with pepés singing . Special mention to coco who made the holiday fun and memorable with me and my daughter singing karaoke and quiz nights . We would definitely return to this hotel again ."
"What a gem! We are very picky when it comes to hotels (usually no less the 5*), however for this holiday we were on a budget and after reading many reviews we decided to just go for it… I cannot tell you how happy we are that we did. WHAT A FIND! Rooms were lovely and clean, pool was clean (but cold) and the beach is a mere 2 minutes' walk away from the hotel. The staff were so nice, helpful and charming (shout out to COCO, Pepe and Kelvin!!!) and made our stay all the more delightful. The hotel stay and holiday was everything we needed and more.[...]"
"Loved this hotel, the location , the staff , the food and the friendly , peaceful and helpful environment. I would like to mention again how helpful and friendly and hardworking the staff are and to name a few of the many staff who particularly went out of their way to be so lovely. [...] I just cannot praise this hotel and staff enough, loved it!"
Lanzarote has something that intrigues, that catches, that enchants. It is a land of volcanoes and secrets, known for its warm climate all year round, for its beaches, for its volcanic landscape, for its art and culture. An island where nature and art come together in a population that is proud of its roots, warm and friendly.